Jan 13, 2015 - list.ly -

42

Smarthome Startups | SmartThings | Life Like Never Before
Jan 13, 2015 - list.ly -

46
Smarthome Tools | Smarthome Forum and Smarthome Home Automation Superstore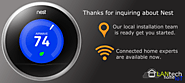 Nationwide IoT device installation.
The Internet of Things revolves around machine-to-machine communication; it's built on cloud computing and networks of data-gathering sensors; it's mobile and it includes thousands of connected devices available on the market today.
Of all the technology trends that have been recently taking place, perhaps the biggest one is the Internet of Things connected devices segment; it's the one that is going to give us the most disruption as well as the most opportunity over the next five years.
Smart and connected homes are becoming commonplace. Today, anyone can go to their nearest Bestbuy to pick up any number of devices that make life easier, automate our lives and provide scheduled services to unburden us from our busy lives and have more time to enjoy the activities we love. No longer is this a small niche, reserved for the wealthy or elite technology minded few.
This is where LANhomeTECH and their national team of IoT experts come into play. They provide on demand scheduling of technicians, skilled in the connected home field. They have not only the consumer focus of smarthome expertise, but also a strong understanding of the basic underlying technologies that make them work. Their team consists of information technology professionals with decades of real-world business and residential networking and systems experience.
The team can get you setup as well as provide guidance on products and compatibility, making sure all your devices are functioning optimally and ensuring security is at the forefront of building and designing your connected home experience. Thermostats, smoke detectors, sensors, surveillance, water leak detection, irrigation controls and lawncare, monitors, doorbells, deadbolts, lights, refrigerators, and more appliances can all be connected to the IoT.
Their website even has an easy to navigate store that makes adding additional products and services a breeze. One-click ordering and encrypted checkout using Stripe to process and protect your credit card information reduces any anxiety about data protection when placing an order.
Watch the Youtube video to learn more about the scheduling process and see how easy it is getting started with an Internet of Things connected home.
Their relationships with manufacturers and application developers allows the team to bring a unique perspective to the consumer market. Retail sales people tend to know little about the products they are selling and even less about the specifications that let them perform the tasks for which they were designed. Moreover, this environment has no answer for products outside of their own ecosystem, challenging a complete home solution because of the limitations and inter compatibility of the products that make up a smarthome. Choosing a firm that works with these technologies exclusively provides a better overall experience.
LANhomeTECH aims to be the go-to source for the consumer IoT installation and services residential customers are looking for. Their goal is to provide a fast, reliable option for those not familiar, or apprehensive about setting up their own connected home, as well as a trusted provider of best practices and current technology trends. Helping customers make better decisions and be better informed is the mission of the organization.