Jan 06, 2015 - cetic.github.io -

29
Foren6 is an effort to provide a non-intrusive 6LoWPAN network analysis tool. It leverages passive sniffer devices to reconstruct a visual and textual representation of network information to support real-world Internet of Things applications where other means of debug (cabled or network-based monitoring) are too costly or impractical.
Jan 06, 2015 - 6lowpan.net -

29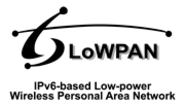 6lowpan.net serves as a center of information and news about enabling the Wireless Embedded Internet using IPv6 and 6LoWPAN technology. Here you will find information about 6LoWPAN and related technology including tutorials and articles along with the latest news from standarsization and industry activities.
Jan 06, 2015 - en.wikipedia.org -

32
IPv6 is the new version of "IP Addresses," the old version being IPv4. Humanity literally, "broke the internet," by filling up all 4.3 billion IPv4 addresses. IPv6 is 128-bit, as opposed to 32-bit, which means there are a gagillion addresses (or 3.4e38 addresses) which we will never fill up...or will we???
Jan 06, 2015 - en.wikipedia.org -

31
In the seven-layer OSI model of computer networking, the network layer is layer 3. The network layer is responsible for packet forwarding including routing through intermediate routers, whereas the data link layer is responsible for media access control, flow control and error checking.
Jan 28, 2015 - en.wikipedia.org -

30
lwIP is used by many manufacturers of embedded systems. Examples include Altera (in the Nios II operating system), Analog Devices (for the Blackfin DSP chip), Xilinx, Honeywell (for some of their FAA certified avionics systems) and Freescale Semiconductor (Ethernet Streaming SW for Automotive microcontrollers).